About us
We understand there are many choices when choosing a chemical supplier for your manufacturing and laboratory needs.  So why would you choose RightPath Industries for your  high purity solvents and general chemicals?  Simply put we are a customer focused and oriented organization offering you some of the best pricing in the industry while acting as consultants when going through the purchasing process. We are one of the leaders in distribution of cost effective high purity solvents , general chemicals , acids, alcohols and specialty chemicals for laboratory and commercial usage.  We are also able to secure and sequester materials close to your facility for just in time inventory  in one of our three warehouses located strategically in the United States.
RightPath Industries has a combined 30 years of experience not just in distribution but also in manufacturing.  We understand the daily tasks involved with manufacturing a downstream product.  We know that timelines, product quality and reliability are paramount when choosing a vendor.  We also know that being a one stop shop is also important during evaluation to streamline your business process and needs.
We have chosen to not be just a run of the mill specialty chemical, solvent, and general chemical distributor but we have chosen to be a supplier partner. In doing so our long term goal is to create longstanding business relationships for your current and future chemicals needs. RightPath Industries is a sister company of RightPath Medical Diagnostics and RightPath Analytical distributors of medical and analytical laboratory supplies across the United States.
Find your products today by simply using the above search bar for access to over 7,000 chemicals
If you have any questions please feel free to contact us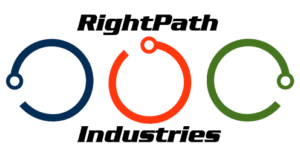 RightPath Industries About Us